(13)
No More Land West
Josh Schaedel
Photographs often have more than dualities, they have multiplicity. They slip in and out of control, constantly appropriated for the message at hand, holding together the fabric of reality with the thinnest of threads, and then breaking the moment its phenomenon is interrupted by mediation. Control of the messages behind them lays in the hands of those who touched them last. As images disseminate into the public, the fantasy of our reality and their depictions fades, as the sun bleaches them out laying bare their construction. The machine driven at a pace no one but the elite can follow leaves all else chasing. Behind it is a wake more violent than any rock to a window. The machine is calculating and relentless, like a rising tide and the summer sun. The sun setting, reds, oranges, yellows, greens, blues and purples. Images now become walls that divide, primed for projected frustration. The camera infinitely is self digestive. This project is made in dedication to my father and my step father, one dark one light, one straight and one not. All proceeds from the sale of the shirt and tattoo edition will be donated to
https://blacktrans.org/about-us/
All images shot around The Pike in Long Beach 6-15-20
Edition of 50
(12)
Untitled Fixed
Josh Schaedel
The piece by Josh Schaedel began as a photograph of a surprisingly realistic looking repair of a broken tail light, made entirely out of colored tape, which was shot in a restaurant parking lot. While the final image, recorded on a DSLR was exhibited in print, a snapshot taken with a phone and shared to Instagram went viral, picked up first by photography accounts, then spread quickly to a surprisingly broad range of users, companies, and geographic locations. With each re-posting, the image took on the meaning projected by its user, and generated conversations colored by that context. Here, the apparatus of photography, including its technology and means of dissemination, is used as an opportunity to curate work through the filter of re-presentation offered by Instagram and the screenshot. The complete body of work took the form of a 171 page phone-sized book, which chronicles the re-posts and commentary over the course of a year.

171 Pages, 4"x6", Perfect Bound, Edition of 50
(11)
THE 13:20 MOVEMENT
Ian James


A manic deep dive into spiritual technology. Ian James's photographs of healing technologies meander through metaphysical pilgrimage sites of the New Age. Time is reframed and seen as a technology unto itself. The book functions as a component to the artist's upcoming exhibition Rainbow Brain of Timeship Earth.

32 Pages, 5.5"x8", Spiral Bound, Edition of 50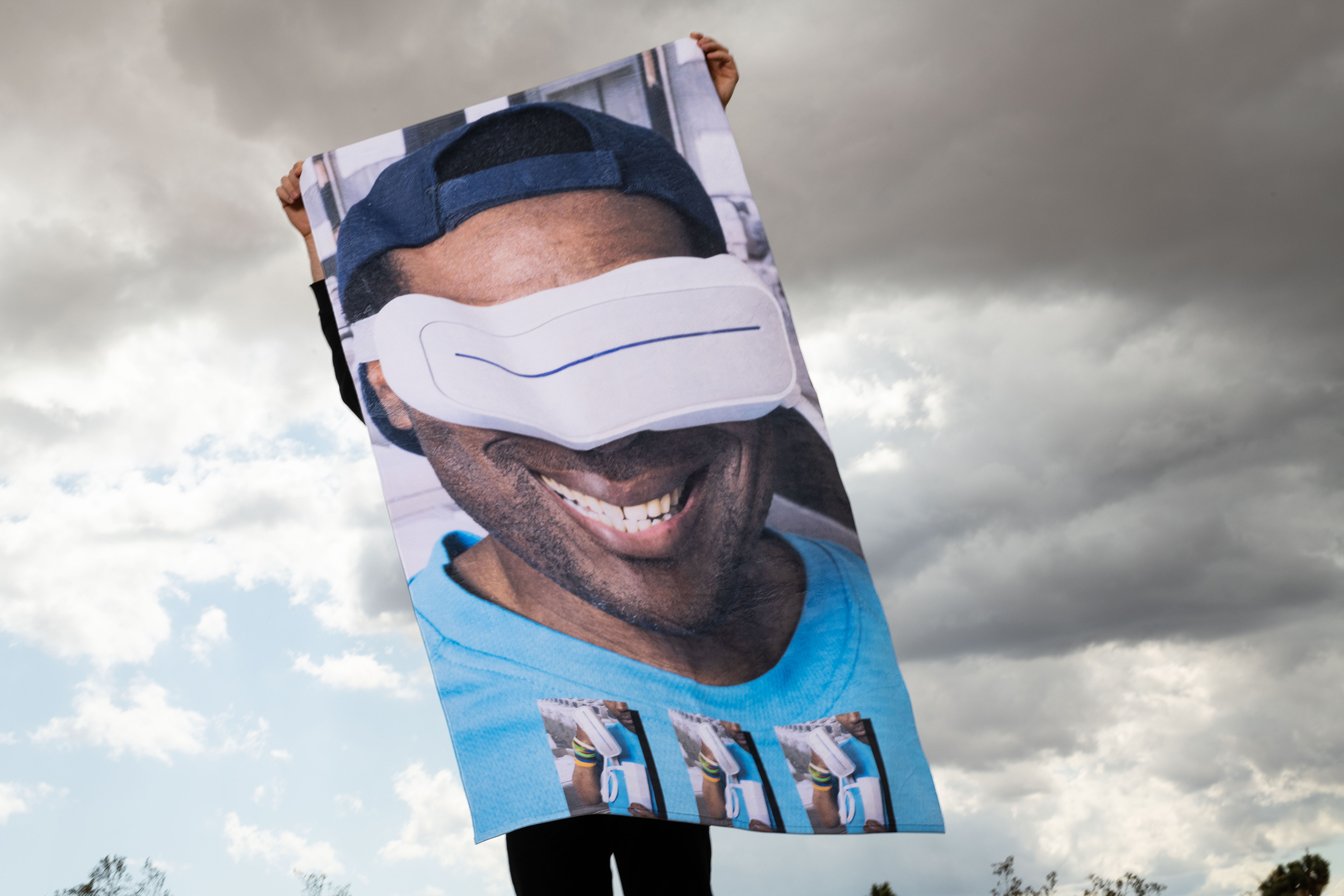 (10)


D&A DIALOGUE 1
David Campany & Anastasia Samoylova



D&A Dialogue is the first of a series of books based on www.instagram.com/dialogue_aandd/, an image conversation between David Campany and Anastasia Samoylova. Campany and Samoylova shoot and post photographs for each other to respond to, in a never-ending visual exchange. Sometimes the responses are formal – colour, pattern – sometimes there are thematic associations. Samoylova is based in Miami, Campany in London, but they both travel and photograph extensively. Although it seems this is a project quite specific to the globalised world of the smart phone and social media, the inspiration for the project was a text written by Oliver Wendell Holmes in 1863. In Doings of the Sunbeam he speculated about the possibility of complete strangers coming to know each other simply by exchanging photographs:

"A photographic intimacy between two persons who never saw each other's faces is a new form of friendship. The artist sends his own presentment […] surrounded by the domestic accidents which so add to the individuality of the student or the artist. You see him at his desk or table, the objects lying about; you divine his tastes, apart from that which he has in common with yourself."

Clearly Holmes would not be surprised by the role of photography in today's social media. The imagery made by Samoylova and Campany is not overtly autobiographical but it is revealing in its own way, about the nature of creative visual exchange, and the mutable conventions of photography.





(9)
SCRATCH THE EARTH
R. Knife
Edition of 200



A selection of short stories and poems illustrated by photographs shot during Chris Adler A.K.A. R. Knife's Los Angeles years. The book paints a dark and humorous portrayal of assimilating into the sprawling city, set agains the backdrop of Knife's travels through New Mexico and the American West. Offset Printed.
(8)


CLOCKS OF LOS ANGELES
Megan Muller & Angela D'Aviognon
In this speculative history of the disappearance of clocks in the Los Angeles area, artist Megan Muller and writer Angela D'Aviognon hunt through archives and explore the sprawling urban environment through writing, vernacular images and photography. Printed in collaboration with Martian Press. Risographed printed.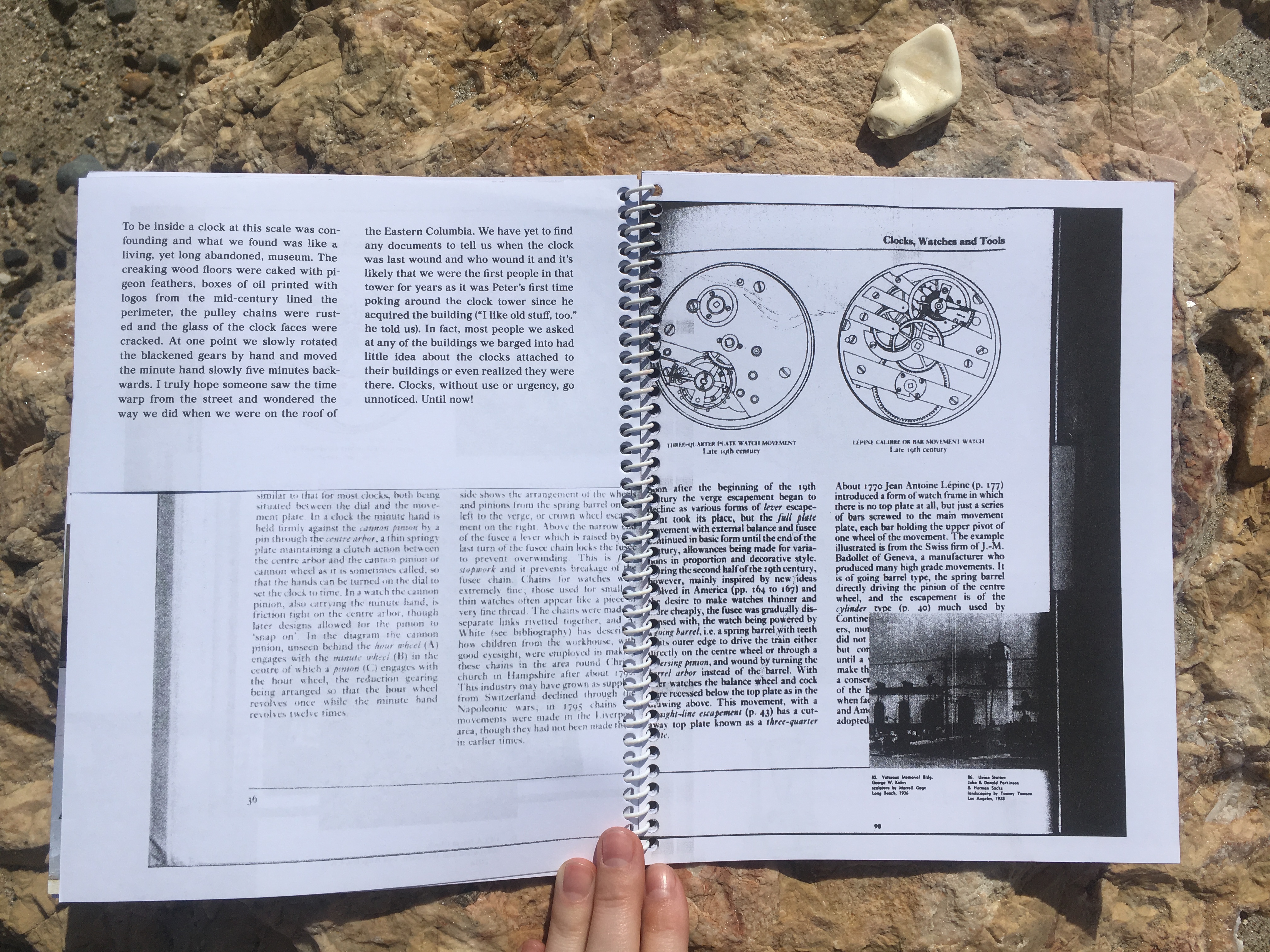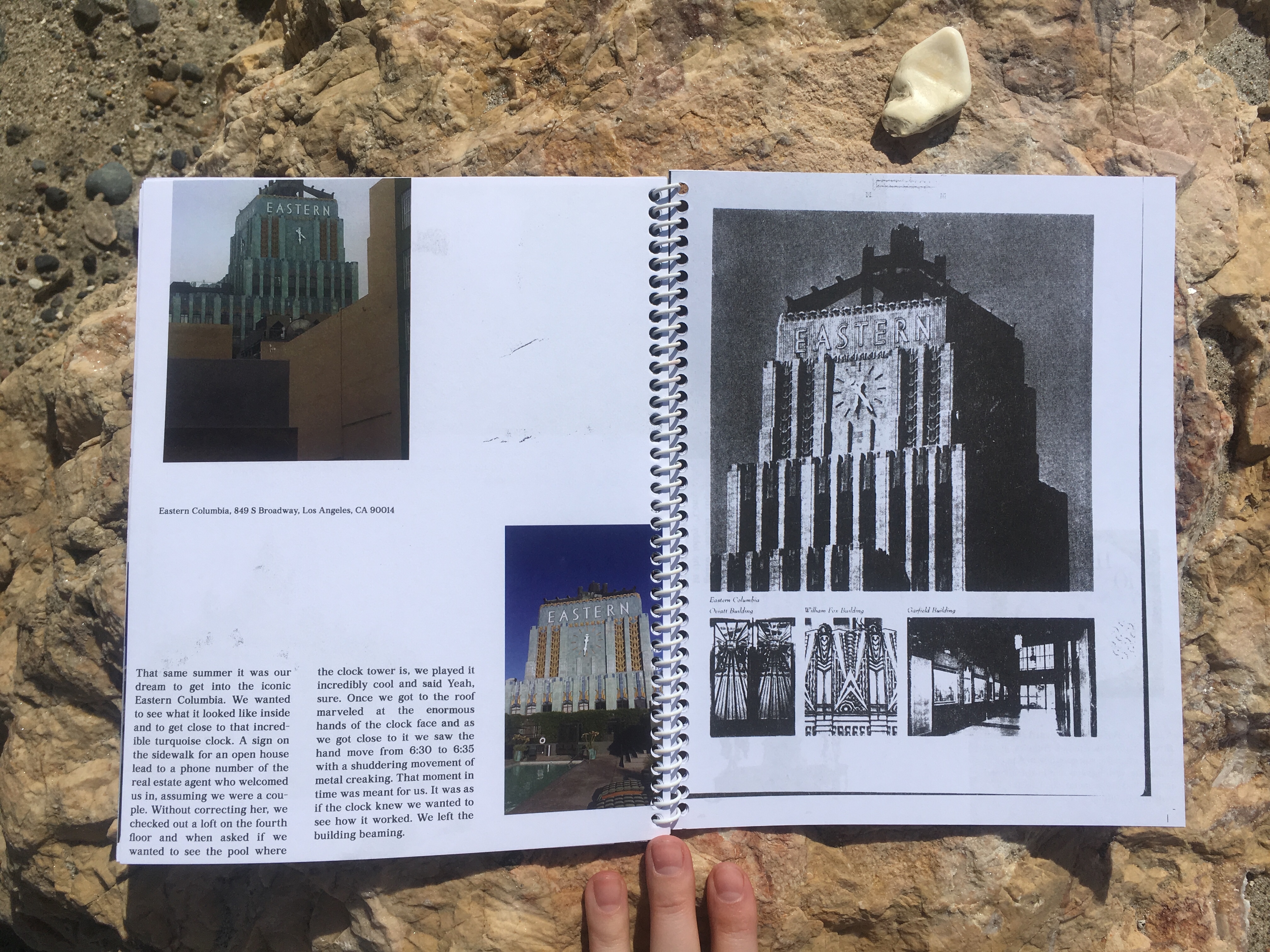 (Object 2)
Clocks of Los Angeles Pin
by Megan Muller & Angela D'Aviognon
for Clocks of Los Angeles
Edition of 100
(7)
DOUBLE DOUBLE, PROTEIN STYLE, ANIMAL STYLE WITH A STRAWBERRY SHAKE AND A CHIPS
Wyatt Conlon
Edition of 50



The order that Wyatt Conlon's late Grandfather ordered every time he went to In-N-Out. This 800 page book counts the hours of the day that his Grandfather woke up to when he went to sleep, recounting through documentation of his actual clock, and various memorabilia including photographs taken by him and his grandfather as well as correspondence in various forms throughout the years they shared together. the nostalgia recounts the simple memories like sharing a burger,fries, and a shake.






(6)


POLYPHONY
Joy Newell & Andrew Goeser
Using their shared love of music and their past growing up in households filled with faith and hymns artists Andrew Goeser and Joy Newell collaborated and project that is very much about falling in love and the place that one becomes two in call and response manner in a duet-like-structure. Off-set printed.

(5)
ANSWERS HAVE QUESTIONS
Wyatt Conlon
Edition of 300



Shot over the course of three years on his frequent visits to Japan, Answers Have Questions explores the myriad ways in which making pictures can take you on a path of discovery, both personally and artistically. Digital off-set printing.